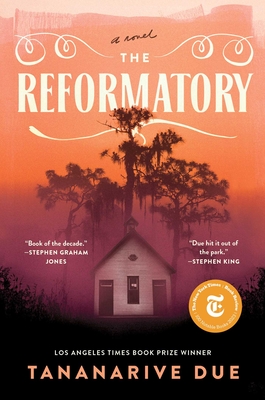 The Reformatory: A Novel
Publication Date:
October 31st, 2023
Publisher:
Gallery / Saga Press
Backordered - Not Immediately Available
The Reformatoryhad me on the edge of my seat, in sheer terror throughout. While there are definitely ghosts in this one, it's not the ghosts that'll scare you — it's the living. Fenton Haddock is a character that will haunt your dreams.
November 2023 Indie Next List
Description
A New York Times Notable Book
"You're in for a treat. The Reformatory is one of those books you can't put down. Tananarive Due hit it out of the park." —Stephen King
A gripping, page-turning novel set in Jim Crow Florida that follows Robert Stephens Jr. as he's sent to a segregated reform school that is a chamber of terrors where he sees the horrors of racism and injustice, for the living, and the dead.
Gracetown, Florida
June 1950
Twelve-year-old Robbie Stephens, Jr., is sentenced to six months at the Gracetown School for Boys, a reformatory, for kicking the son of the largest landowner in town in defense of his older sister, Gloria. So begins Robbie's journey further into the terrors of the Jim Crow South and the very real horror of the school they call The Reformatory.
Robbie has a talent for seeing ghosts, or haints. But what was once a comfort to him after the loss of his mother has become a window to the truth of what happens at the reformatory. Boys forced to work to remediate their so-called crimes have gone missing, but the haints Robbie sees hint at worse things. Through his friends Redbone and Blue, Robbie is learning not just the rules but how to survive. Meanwhile, Gloria is rallying every family member and connection in Florida to find a way to get Robbie out before it's too late.
The Reformatory is a haunting work of historical fiction written as only American Book Award–winning author Tananarive Due could, by piecing together the life of the relative her family never spoke of and bringing his tragedy and those of so many others at the infamous Dozier School for Boys to the light in this riveting novel.
Praise for The Reformatory: A Novel
"You're in for a treat The Reformatory is one of those books you can't put down. Tananarive Due hit it out of the park."
— —Stephen King
"One of the best novels published in 2023. A superb mix of literary fiction, horror, and historical fiction."
— Gabino Iglesias,
"The Reformatory is a masterpiece -- a new American classic of the uncanny. I was gripped from the first lines to the catch-your-breath desperation of the final pages. Even in the tale's grimmest moments, Tananarive Due insists on the almost supernatural power of simple kindness. You have to read this book."
— --Joe Hill,  #1 New York Times bestselling author of The Fireman, Heart-Shaped Box, and