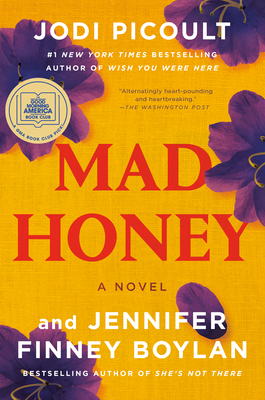 Mad Honey: A Novel
Publication Date:
September 5th, 2023
Publisher:
Ballantine Books
Usually Ships in 1 to 5 Days
I've followed Jodi's work for years — now she's collaborated with the wonderful Jenny Boylan. This heart-thump of a mystery threatens the new-found happiness of our protagonist and her beloved son. It doesn't get any better than this!
October 2022 Indie Next List
Description
NEW YORK TIMES BESTSELLER • "Alternatingly heart-pounding and heartbreaking. This collaboration between two best-selling authors seamlessly weaves together Olivia and Lily's journeys, creating a provocative exploration of the strength that love and acceptance require."—The Washington Post
 
GOOD MORNING AMERICA BOOK CLUB PICK • PEOPLE'S BOOK OF THE WEEK • ONE OF THE BEST BOOKS OF THE YEAR: PopSugar
Olivia McAfee knows what it feels like to start over. Her picture-perfect life—living in Boston, married to a brilliant cardiothoracic surgeon, raising their beautiful son, Asher—was upended when her husband revealed a darker side. She never imagined that she would end up back in her sleepy New Hampshire hometown, living in the house she grew up in and taking over her father's beekeeping business.
 
Lily Campanello is familiar with do-overs, too. When she and her mom relocate to Adams, New Hampshire, for her final year of high school, they both hope it will be a fresh start. 
 
And for just a short while, these new beginnings are exactly what Olivia and Lily need. Their paths cross when Asher falls for the new girl in school, and Lily can't help but fall for him, too. With Ash, she feels happy for the first time. Yet she wonders if she can trust him completely. . . .
 
Then one day, Olivia receives a phone call: Lily is dead, and Asher is being questioned by the police. Olivia is adamant that her son is innocent. But she would be lying if she didn't acknowledge the flashes of his father's temper in Ash, and as the case against him unfolds, she realizes he's hidden more than he's shared with her.
 
Mad Honey is a riveting novel of suspense, an unforgettable love story, and a moving and powerful exploration of the secrets we keep and the risks we take in order to become ourselves.
Praise for Mad Honey: A Novel
Praise for Mad Honey
"Alternatingly heart-pounding and heartbreaking . . .This collaboration between two best-selling authors seamlessly weaves together Olivia and Lily's journeys, creating a provocative exploration of the strength that love and acceptance require."—The Washington Post
"Gripping . . . This timely and absorbing read will make readers glad these two powerful writers decided to collaborate."—Booklist (starred review)
"Compelling . . . A well-paced story that highlights several timely issues, with a stimulating courtroom trial that makes it worth reading."—Kirkus Reviews
"A spellbinding yarn . . . atmospheric . . . riveting . . . Overall, it's a fruitful collaboration."—Publishers Weekly

Praise for Jodi Picoult
"Picoult is a skilled wordsmith, and she beautifully creates situations that not only provoke the mind but touch the flawed souls in all of us."—The Boston Globe

"Jodi Picoult is that rare, one-in-a-million writer whose books both squeeze your heart and expand your mind."⁠—Emily Henry
Praise for Jennifer Finney Boylan
"Jennifer Finney Boylan is an exquisite writer."—Augusten Burroughs

"One could not ask for a wiser, warmer, more engaging companion than Jennifer Finney Boylan."—Mary Roach